Prishtina, February 22nd 2023 – Axians, the ICT brand of VINCI Energies, is cooperating with the Social-Educational Center "Don Bosko" in Prishtina (Kosovo). In the long-term oriented partnership Axians provides know-how and equipment to drive digital education – especially for children from poor households.
Axians is as a leading multinational ICT services and solutions provider and partner of vendors like Checkpoint, Cisco, Dell, HP, Fortinet, Microsoft, Nokia, IBM, SAP, IBM and others. It founded its country organization in Kosovo in 2021 and has seen a rapid growth since then. Axians employs nearly 100 experts for software development and telecom infrastructures in Prishtina and Gjakovë. Now Axians rolls out its strong corporate social engagement for education and children in Kosovo. In the lookout for the right partner a long term-partnership with social-educational center "Don Bosko" was formed.
The Don Bosko Center began its mission in Kosovo on October 28th, 2003 with vocational training courses. The entire activity of professional youth training has contributed and still contributes as far as possible, to the national strategy for economic development and easing unemployment in the country, which is in harmony with EU policies based on four main strategic objectives: ensuring lifelong learning & mobility, promoting equality, social cohesion and active citizenship.
In the first phase of the partnership Axians donated a multi-device digital education infrastructure to the Don Bosko school in Prishtina, that has 1100 pupils currently. The equipment consists of smart screens for the classroom that allow remote conferencing, whiteboarding and digital content sharing, also notebooks and tablets have been donated. Furthermore, employees of Axians in Kosovo will support the school with ICT expertise in the usage of the infrastructure for collaborative digital learning. Burim Mirakaj, General Director VINCI Energies DACH & CEE ICT, who is responsible for the business of Axians in 13 countries, took over patronage for this project.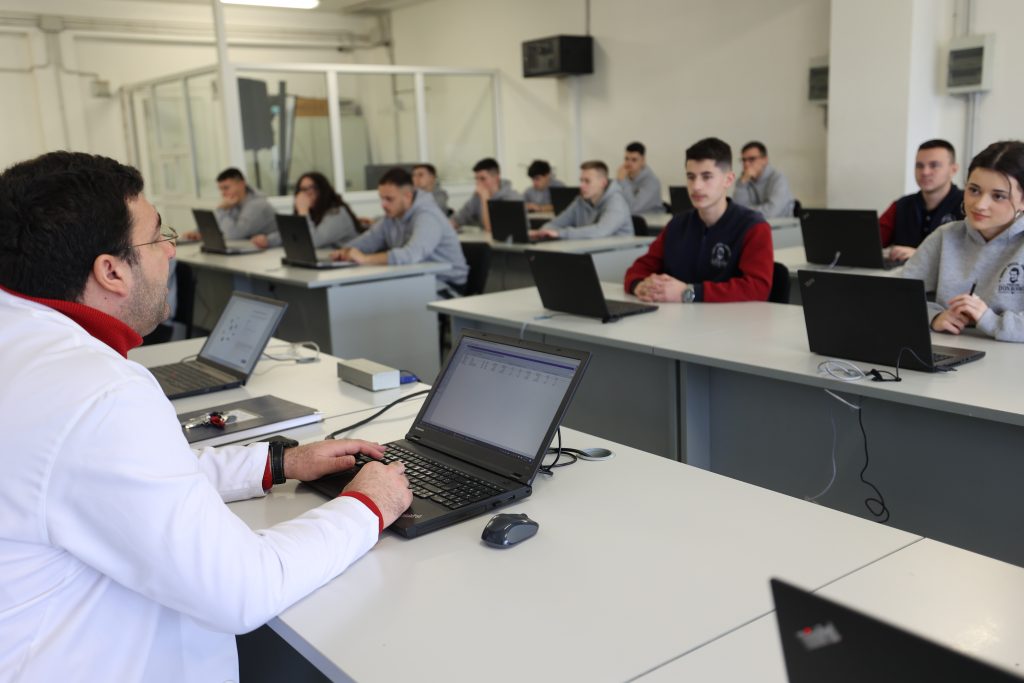 Caption: Classroom of Don Bosko school, Prishtina. Source: Axians Kosovo
Don Dominik Kukeli, Director of Don Bosko Kosovo says: "We are glad that a leading ICT company like Axians decided to work together with us. Digital education is a key factor enabling children to get better education perspectives, equality of chances and to release their full potential for individual development. By the cooperation we can offer new ways of interactive teaching and access digital educational material for our pupils. By that we especially support children from poor households to improve their chances. I want to thank Burim Mirakaj for enabling the partnership with Axians."
Burim Mirakaj adds: "The ICT industry is a key sector for the further positive development throughout Europe and so in Kosovo. As a very relevant player in this market we also live our corporate responsibility
very passionately. By our partnership with Don Bosko Kosovo we are investing today in the future of kids. They can learn in the best digital infrastructure possible and improve their chances for a successful career path in the country."
Axians in Kosovo itself is also investing in workforce development and "ready for digital world" programmes for students. Currently Axians is setting up an own university of cooperative education. "The theoretical training of so called 'dual students' is linked to practical projects in our company," says Pjeter Gojani, Business Area Manager CEE ICT South at Axians. So, students can directly experience ICT projects from software development to fibre or mobile network planning and foster their know-how.
Born out of priest Don Bosko's work in the 19th century, the Don Bosko Family is a worldwide movement present in 134 countries of the world. Religious and lay people, men and women, young people and adults, employees and volunteers, Christians and non-Christians work together in the spirit of Don Bosco all over the world to open up future prospects for young people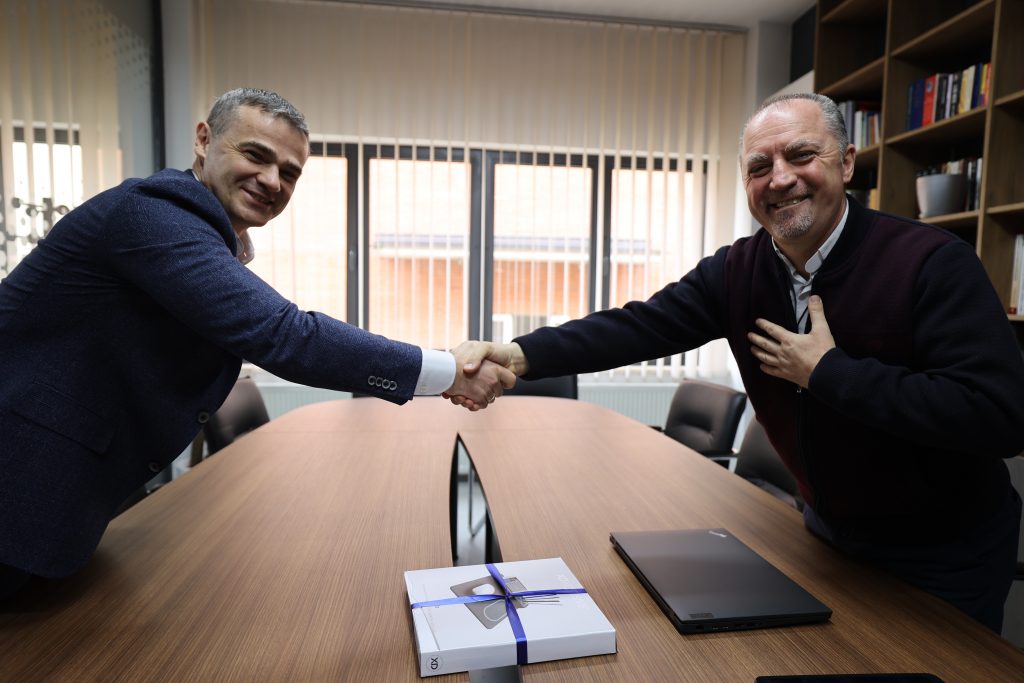 Caption: Burim Mirakaj and Don Dominik Kukeli found the partnership of Axians Kosovo and Don Bosko Center.
Source: Axians Kosovo
About Axians 
Axians supports its customers — private-sector companies, public-sector entities, operators and service providers — in their infrastructures and digital solutions development. To this end, Axians offers a comprehensive range of ICT solutions and services spanning business applications and data analytics, enterprise networks and digital workspaces, datacenters and cloud services, telecommunications infrastructure and cybersecurity.  Axians's specialized consulting, design, integration and service teams develop bespoke digital transformation solutions that contribute to successful business outcomes for its customers. Axians is a VINCI Energies brand.
2021: Revenues of €2.7 billion // 12,500 employees // 27 countries
www.axians.com
About VINCI Energies
In a world undergoing constant change, VINCI Energies contributes to the environmental transition by helping bring about major shifts in the digital landscape and the energy sector. Keeping pace with market change, VINCI Energies integrates customized multi-technical solutions to help its customers roll out technologies that serve a useful purpose and care for the planet, from design to implementation, operation and maintenance. With their strong regional roots and agile and innovative structure, VINCI Energies' 1,800 business units have positioned themselves at the heart of the energy choices their customers make, boosting the reliability, efficiency and sustainability of their infrastructure and processes.
2021: €15.1 billion // 85,700 employees // 1,800 Business Units // 57 countries
www.vinci-energies.com
Further information & press contact Axians Kosovo:
Axians Software Consulting and Development Kosovo L.L.C. Dragodan Str. • 10000 Prishtina • Kosovo
Betina Sadiku, Communications & Marketing Axians Kosovo
E-Mail: betina.sadiku@axians.com
Web: www.axians-kosovo.com